I was working on my mystery blocks last night and I got week#1 done.
Not really happy with the stem. . but nothing's perfect right? Plus I had already made the cut – I couldn't change it if I wanted to.
So I was moving to week#2 . . . and it's called Bear Claw. Well I nearly turned into a bear trying to piece it together. It wasn't matching up properly. What's a bear claw? Looks like this. . .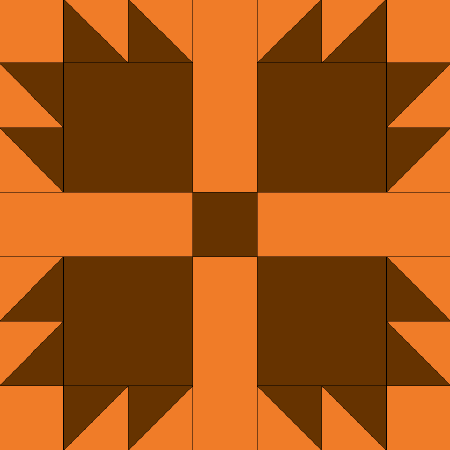 My claws weren't matching up with the block and I just had to put it down. I'll ask my instructor tonight about it.
I moved on to Great Grandma Newbold's quilt and started the deconstructing of the blocks. . I think when I put the scissors to it, I heard a tiny little scream. I was going along the blocks to see which ones I could keep, my favorite so far is:
I will have to say, she did an awesome job at sewing it. If the fabric held its end of the bargain then the quilt would be holding strong.
I'm sitting there last night picking and watching the first season of Dexter. . . I like the show – but can't stand the gore of it. I can now totally relate to others who sew and watch tv at the same time.