So here's what I have a hard time with. . . as a relatively new quilter – it's hard for me to move away from fabric lines. You know what I'm talking about? Like if you buy the whole fabric line and put it in the quilt then you'll know it will all work. You don't have to worry about clashing and things turning out funky.
Where do I turn to. . . .well lets go the color wheel my fellow quilting peeps.
One of my many projects besides making every quilt in Mrs. Fransson's book is to make other quilts that I love and adore. I haven't venture out in making my own pattern unless you count the Kona solid challenge (and lets face it – that wasn't too original) One of the main reasons is that I've got too many things on my plate to try to figure a quilt out. . if you know what I mean. Maybe next year I'll start being a contender, but since I'm a newbie I'll just sit on the sidelines and cheer my fellow quilters on.
So back to the color wheel and moving away from entire fabric lines. . . .
I've added to my list of quilts that I must do is the (drum roll please):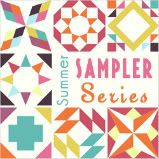 Yeah I really loved how Kate, Lee, and Faith quilts turned out. So of course I get super jealous and want one for myself!!! But if you don't hang out with me in person and you only know me from this blog – then you don't know that I way over tapped my budget on fabric in July and August. So I can't just go out and buy fabric for this. . . . . I must shop my stash. And what do you know. . I've got tons and tons! Namely this awesome Art Gallery fabric that I bought from market in the spring.
(bottom two stacks)
But if you notice that it's leaning more towards the girly-girly colors and I can't have a super girltastic quilt.
1. I'm not a girly-girly and
2. My husband will roll his eyes and complain how much estrogen is flowing out of the quilt
So I've gotta look at the color wheel and shop my stash and come up with good pairs for each color any suggestions??? And my first attempt at moving away from a entire fabric line . . kind of scary.